Star Force Origins series (1-72) - Aer-ki Jyr
Shared by:Vamps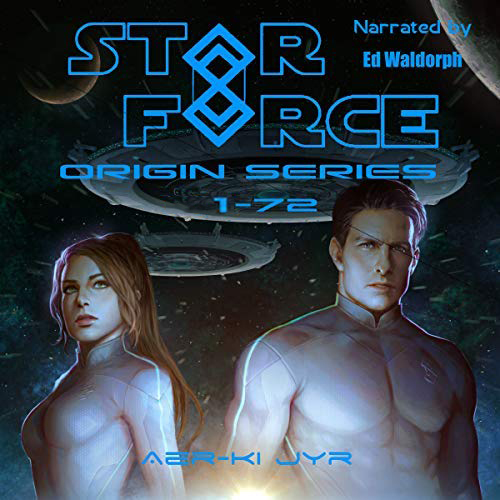 Written by Aer-ki Jyr
Read by Various Narrators
Format: MP3
Bitrate: 48 Kbps
Unabridged
ALL 72 current audiobook releases. I've also included 115 eps in .epub format.
Total Size: 4.3GB
Total Time: 207:18:33
The Origin Series is empire building at its finest, with 100 episodes and over 2.5 million words in the military science fiction serial detailing the rise of Star Force from corporate entity into an interstellar empire over the course of more than a millennium.
Follow a core group of characters known as the Trailblazers as they use alien technology and knowledge discovered in Antarctic ruins to obtain limited immortality and lead Humanity out into the galaxy, encountering, befriending, and fighting hundreds of alien races all the while desperately trying to prepare Earth for the unbeatable threat at the core of the Milky Way that is destined to return and reclaim their lost colony…and their former Human slaves.
Announce URL:
This Torrent also has several backup trackers
Tracker:
udp://tracker.open-internet.nl:6969/announce
Tracker:
udp://tracker.opentrackr.org:1337/announce
Tracker:
udp://tracker.tiny-vps.com:6969/announce
Tracker:
udp://tracker.vanitycore.co:6969/announce
Tracker:
udp://tracker.torrent.eu.org:451/announce
Tracker:
http://tracker.internetwarriors.net:1337/announce
Tracker:
http://tracker.vanitycore.co:6969/announce
Tracker:
http://retracker.telecom.by/announce
Tracker:
udp://tracker.leechers-paradise.org:6969
Tracker:
udp://tracker.coppersurfer.tk:6969
Tracker:
http://retracker.telecom.by:80/announce
Creation Date:
Mon, 24 Sep 2018 00:42:54 -0400
This is a Multifile Torrent
2016 - Star Force Origin Series, Books 001-004 (Green-Forbes) 48k 10.36.34 {218mb} Star Force Origins - 004-Trailblazer.mp3 63.69 MBs
2016 - Star Force Origin Series, Books 001-004 (Green-Forbes) 48k 10.36.34 {218mb} Star Force Origins - 003-Nemesis.mp3 57.11 MBs
2016 - Star Force Origin Series, Books 001-004 (Green-Forbes) 48k 10.36.34 {218mb} Star Force Origins - 002-Integration.mp3 52.47 MBs
2016 - Star Force Origin Series, Books 001-004 (Green-Forbes) 48k 10.36.34 {218mb} Star Force Origins - 001-Inception.mp3 45.47 MBs
2016 - Star Force Origin Series, Books 001-004 (Green-Forbes) 48k 10.36.34 {218mb} cover.jpg 45.61 KBs
2016 - Star Force Origin Series, Books 001-004 (Green-Forbes) 48k 10.36.34 {218mb} info.txt 1.98 KBs
2016 - Star Force Origin Series, Books 005-008 (Weight) 48k 09.37.10 {198mb} Star Force Origins - 008-Flashpoint.mp3 52.21 MBs
2016 - Star Force Origin Series, Books 005-008 (Weight) 48k 09.37.10 {198mb} Star Force Origins - 005-Gemini.mp3 50.61 MBs
2016 - Star Force Origin Series, Books 005-008 (Weight) 48k 09.37.10 {198mb} Star Force Origins - 006-Ambrosia.mp3 48.06 MBs
2016 - Star Force Origin Series, Books 005-008 (Weight) 48k 09.37.10 {198mb} Star Force Origins - 007-Fabrication.mp3 47.46 MBs
2016 - Star Force Origin Series, Books 005-008 (Weight) 48k 09.37.10 {198mb} cover.jpg 44.27 KBs
2016 - Star Force Origin Series, Books 005-008 (Weight) 48k 09.37.10 {198mb} info.txt 1.13 KBs
2016 - Star Force Origin Series, Books 009-012 (Day) 48k 10.29.04 {216mb} Star Force Origins - 009-Mettle.mp3 58.79 MBs
2016 - Star Force Origin Series, Books 009-012 (Day) 48k 10.29.04 {216mb} Star Force Origins - 012-Escalation.mp3 54.39 MBs
2016 - Star Force Origin Series, Books 009-012 (Day) 48k 10.29.04 {216mb} Star Force Origins - 010-Disarmament.mp3 53.13 MBs
2016 - Star Force Origin Series, Books 009-012 (Day) 48k 10.29.04 {216mb} Star Force Origins - 011-Deception.mp3 49.89 MBs
2016 - Star Force Origin Series, Books 009-012 (Day) 48k 10.29.04 {216mb} cover.jpg 57.4 KBs
2016 - Star Force Origin Series, Books 009-012 (Day) 48k 10.29.04 {216mb} info.txt 1.11 KBs
2016 - Star Force Origin Series, Books 013-016 (Day) 48k 11.40.04 {240mb} Star Force Origins - 015-Colonization.mp3 63.72 MBs
2016 - Star Force Origin Series, Books 013-016 (Day) 48k 11.40.04 {240mb} Star Force Origins - 016-Canderous.mp3 59.31 MBs
2016 - Star Force Origin Series, Books 013-016 (Day) 48k 11.40.04 {240mb} Star Force Origins - 014-Zen'zat.mp3 59.16 MBs
2016 - Star Force Origin Series, Books 013-016 (Day) 48k 11.40.04 {240mb} Star Force Origins - 013-Secession.mp3 58.39 MBs
2016 - Star Force Origin Series, Books 013-016 (Day) 48k 11.40.04 {240mb} cover.jpg 57.48 KBs
2016 - Star Force Origin Series, Books 013-016 (Day) 48k 11.40.04 {240mb} info.txt 1.11 KBs
2016 - Star Force Origin Series, Books 017-020 (Day) 48k 10.56.09 {225mb} Star Force Origins - 018-Counterstrike.mp3 57.78 MBs
2016 - Star Force Origin Series, Books 017-020 (Day) 48k 10.56.09 {225mb} Star Force Origins - 019-Benefactor.mp3 56.36 MBs
2016 - Star Force Origin Series, Books 017-020 (Day) 48k 10.56.09 {225mb} Star Force Origins - 020-Melee.mp3 56.04 MBs
2016 - Star Force Origin Series, Books 017-020 (Day) 48k 10.56.09 {225mb} Star Force Origins - 017-Intimidation.mp3 55.34 MBs
2016 - Star Force Origin Series, Books 017-020 (Day) 48k 10.56.09 {225mb} cover.jpg 60.9 KBs
2016 - Star Force Origin Series, Books 017-020 (Day) 48k 10.56.09 {225mb} info.txt 1.14 KBs
2016 - Star Force Origin Series, Books 021-024 (Hendricks) 48k 12.39.52 {261mb} Star Force Origins - 021-Allegiance.mp3 68.33 MBs
2016 - Star Force Origin Series, Books 021-024 (Hendricks) 48k 12.39.52 {261mb} Star Force Origins - 022-Augmentation.mp3 65.19 MBs
2016 - Star Force Origin Series, Books 021-024 (Hendricks) 48k 12.39.52 {261mb} Star Force Origins - 023-Backstab.mp3 64.13 MBs
2016 - Star Force Origin Series, Books 021-024 (Hendricks) 48k 12.39.52 {261mb} Star Force Origins - 024-Origin.mp3 63.46 MBs
2016 - Star Force Origin Series, Books 021-024 (Hendricks) 48k 12.39.52 {261mb} cover.jpg 57.54 KBs
2016 - Star Force Origin Series, Books 021-024 (Hendricks) 48k 12.39.52 {261mb} info.txt 1.14 KBs
2016 - Star Force Origin Series, Books 025-028 (Day) 48k 12.31.20 {268mb} Star Force Origins - 028-Insurrection.mp3 65.4 MBs
2016 - Star Force Origin Series, Books 025-028 (Day) 48k 12.31.20 {268mb} Star Force Origins - 027-Ascension.mp3 65.21 MBs
2016 - Star Force Origin Series, Books 025-028 (Day) 48k 12.31.20 {268mb} Star Force Origins - 025-Foothold.mp3 64.65 MBs
2016 - Star Force Origin Series, Books 025-028 (Day) 48k 12.31.20 {268mb} Star Force Origins - 026-Death Knell.mp3 62.92 MBs
2016 - Star Force Origin Series, Books 025-028 (Day) 48k 12.31.20 {268mb} cover.jpg 57.57 KBs
2016 - Star Force Origin Series, Books 025-028 (Day) 48k 12.31.20 {268mb} info.txt 1.11 KBs
2016 - Star Force Origin Series, Books 029-032 (Fischbein) 48k 12.21.05 {254mb} Star Force Origins - 030-Recalibration.mp3 66.79 MBs
2016 - Star Force Origin Series, Books 029-032 (Fischbein) 48k 12.21.05 {254mb} Star Force Origins - 029-Psionics.mp3 65.58 MBs
2016 - Star Force Origin Series, Books 029-032 (Fischbein) 48k 12.21.05 {254mb} Star Force Origins - 031-Aquatics.mp3 63.59 MBs
2016 - Star Force Origin Series, Books 029-032 (Fischbein) 48k 12.21.05 {254mb} Star Force Origins - 032-Mastermind.mp3 58.7 MBs
2016 - Star Force Origin Series, Books 029-032 (Fischbein) 48k 12.21.05 {254mb} cover.jpg 57.53 KBs
2016 - Star Force Origin Series, Books 029-032 (Fischbein) 48k 12.21.05 {254mb} info.txt 1.13 KBs
2016 - Star Force Origin Series, Books 033-036 (Day) 48k 12.37.56 {260mb} Star Force Origins - 033-Eviction.mp3 68.64 MBs
2016 - Star Force Origin Series, Books 033-036 (Day) 48k 12.37.56 {260mb} Star Force Origins - 034-Deceit.mp3 66.83 MBs
2016 - Star Force Origin Series, Books 033-036 (Day) 48k 12.37.56 {260mb} Star Force Origins - 036-Knighthood.mp3 63.44 MBs
2016 - Star Force Origin Series, Books 033-036 (Day) 48k 12.37.56 {260mb} Star Force Origins - 035-Paradigmt.mp3 61.5 MBs
2016 - Star Force Origin Series, Books 033-036 (Day) 48k 12.37.56 {260mb} cover.jpg 45.86 KBs
2016 - Star Force Origin Series, Books 033-036 (Day) 48k 12.37.56 {260mb} info.txt 1.11 KBs
2016 - Star Force Origin Series, Books 037-040 (Day) 48k 12.57.54 {267mb} Star Force Origins - 037-Scruples.mp3 68.28 MBs
2016 - Star Force Origin Series, Books 037-040 (Day) 48k 12.57.54 {267mb} Star Force Origins - 040-Commando.mp3 67.19 MBs
2016 - Star Force Origin Series, Books 037-040 (Day) 48k 12.57.54 {267mb} Star Force Origins - 039-Unification.mp3 66.77 MBs
2016 - Star Force Origin Series, Books 037-040 (Day) 48k 12.57.54 {267mb} Star Force Origins - 038-Termination.mp3 65 MBs
2016 - Star Force Origin Series, Books 037-040 (Day) 48k 12.57.54 {267mb} cover.jpg 43.55 KBs
2016 - Star Force Origin Series, Books 037-040 (Day) 48k 12.57.54 {267mb} info.txt 1.11 KBs
2016 - Star Force Origin Series, Books 041-044 (Baker) 48k 12.16.52 {253mb} Star Force Origins - 041-Upgrades.mp3 65.73 MBs
2016 - Star Force Origin Series, Books 041-044 (Baker) 48k 12.16.52 {253mb} Star Force Origins - 042-Probe.mp3 64.19 MBs
2016 - Star Force Origin Series, Books 041-044 (Baker) 48k 12.16.52 {253mb} Star Force Origins - 043-Consensus.mp3 61.69 MBs
2016 - Star Force Origin Series, Books 041-044 (Baker) 48k 12.16.52 {253mb} Star Force Origins - 044-Relocation.mp3 61.6 MBs
2016 - Star Force Origin Series, Books 041-044 (Baker) 48k 12.16.52 {253mb} cover.jpg 57.58 KBs
2016 - Star Force Origin Series, Books 041-044 (Baker) 48k 12.16.52 {253mb} info.txt 1.1 KBs
2016 - Star Force Origin Series, Books 045-048 (Robinson) 48k 13.19.50 {274mb} Star Force Origins - 046-Excursion.mp3 71.73 MBs
2016 - Star Force Origin Series, Books 045-048 (Robinson) 48k 13.19.50 {274mb} Star Force Origins - 047-Axius.mp3 68.85 MBs
2016 - Star Force Origin Series, Books 045-048 (Robinson) 48k 13.19.50 {274mb} Star Force Origins - 045-Battlemeld .mp3 68.44 MBs
2016 - Star Force Origin Series, Books 045-048 (Robinson) 48k 13.19.50 {274mb} Star Force Origins - 048-Veracious.mp3 65.81 MBs
2016 - Star Force Origin Series, Books 045-048 (Robinson) 48k 13.19.50 {274mb} cover.jpg 57.58 KBs
2016 - Star Force Origin Series, Books 045-048 (Robinson) 48k 13.19.50 {274mb} info.txt 1.13 KBs
2016 - Star Force Origin Series, Books 049-052 (Day) 48k 11.21.04 {234mb} Star Force Origins - 051-Sav.mp3 59.79 MBs
2016 - Star Force Origin Series, Books 049-052 (Day) 48k 11.21.04 {234mb} Star Force Origins - 050-Evacuation.mp3 58.31 MBs
2016 - Star Force Origin Series, Books 049-052 (Day) 48k 11.21.04 {234mb} Star Force Origins - 052-Survivor.mp3 58.19 MBs
2016 - Star Force Origin Series, Books 049-052 (Day) 48k 11.21.04 {234mb} Star Force Origins - 049-Penance.mp3 57.76 MBs
2016 - Star Force Origin Series, Books 049-052 (Day) 48k 11.21.04 {234mb} cover.jpg 57.57 KBs
2016 - Star Force Origin Series, Books 049-052 (Day) 48k 11.21.04 {234mb} info.txt 1.14 KBs
2016 - Star Force Origin Series, Books 053-056 (Day) 48k 12.05.00 {249mb} Star Force Origins - 053-Backdoor.mp3 63.13 MBs
2016 - Star Force Origin Series, Books 053-056 (Day) 48k 12.05.00 {249mb} Star Force Origins - 056-Liberation.mp3 62.68 MBs
2016 - Star Force Origin Series, Books 053-056 (Day) 48k 12.05.00 {249mb} Star Force Origins - 055-Internecine.mp3 61.87 MBs
2016 - Star Force Origin Series, Books 053-056 (Day) 48k 12.05.00 {249mb} Star Force Origins - 054-Bloodlust.mp3 61.46 MBs
2016 - Star Force Origin Series, Books 053-056 (Day) 48k 12.05.00 {249mb} cover.jpg 57.59 KBs
2016 - Star Force Origin Series, Books 053-056 (Day) 48k 12.05.00 {249mb} info.txt 1.14 KBs
2016 - Star Force Origin Series, Books 057-060 (Day) 48k 12.13.45 {252mb} Star Force Origins - 059-Shame.mp3 64.51 MBs
2016 - Star Force Origin Series, Books 057-060 (Day) 48k 12.13.45 {252mb} Star Force Origins - 060-Retribution.mp3 64.4 MBs
2016 - Star Force Origin Series, Books 057-060 (Day) 48k 12.13.45 {252mb} Star Force Origins - 058-Empire.mp3 61.94 MBs
2016 - Star Force Origin Series, Books 057-060 (Day) 48k 12.13.45 {252mb} Star Force Origins - 057-Nexus.mp3 61.29 MBs
2016 - Star Force Origin Series, Books 057-060 (Day) 48k 12.13.45 {252mb} cover.jpg 57.59 KBs
2016 - Star Force Origin Series, Books 057-060 (Day) 48k 12.13.45 {252mb} info.txt 1.13 KBs
2016 - Star Force Origin Series, Books 061-064 (Lee) 48k 10.09.31 {209mb} Star Force Origins - 062-Hamoriti.mp3 55.46 MBs
2016 - Star Force Origin Series, Books 061-064 (Lee) 48k 10.09.31 {209mb} Star Force Origins - 064-Newbslayer.mp3 51.97 MBs
2016 - Star Force Origin Series, Books 061-064 (Lee) 48k 10.09.31 {209mb} Star Force Origins - 063-Marauders.mp3 51.49 MBs
2016 - Star Force Origin Series, Books 061-064 (Lee) 48k 10.09.31 {209mb} Star Force Origins - 061-Initiation.mp3 50.52 MBs
2016 - Star Force Origin Series, Books 061-064 (Lee) 48k 10.09.31 {209mb} cover.jpg 43.33 KBs
2016 - Star Force Origin Series, Books 061-064 (Lee) 48k 10.09.31 {209mb} info.txt 1.14 KBs
2016 - Star Force Origin Series, Books 065-068 (Waldorph) 48k 13.05.16 {269mb} Star Force Origins - 068-Trials.mp3 68.91 MBs
2016 - Star Force Origin Series, Books 065-068 (Waldorph) 48k 13.05.16 {269mb} Star Force Origins - 067-Ghostblade.mp3 68.2 MBs
2016 - Star Force Origin Series, Books 065-068 (Waldorph) 48k 13.05.16 {269mb} Star Force Origins - 065-Fiddlesticks.mp3 66.39 MBs
2016 - Star Force Origin Series, Books 065-068 (Waldorph) 48k 13.05.16 {269mb} Star Force Origins - 066-Proving Ground.mp3 66.3 MBs
2016 - Star Force Origin Series, Books 065-068 (Waldorph) 48k 13.05.16 {269mb} cover.jpg 47.83 KBs
2016 - Star Force Origin Series, Books 065-068 (Waldorph) 48k 13.05.16 {269mb} info.txt 1.11 KBs
2016 - Star Force Origin Series, Books 069-072 (Waldorph) 48k 13.35.57 {280mb} Star Force Origins - 071-Rescue.mp3 80.34 MBs
2016 - Star Force Origin Series, Books 069-072 (Waldorph) 48k 13.35.57 {280mb} Star Force Origins - 072-Headstrong.mp3 67.05 MBs
2016 - Star Force Origin Series, Books 069-072 (Waldorph) 48k 13.35.57 {280mb} Star Force Origins - 069-Starchaser.mp3 67.02 MBs
2016 - Star Force Origin Series, Books 069-072 (Waldorph) 48k 13.35.57 {280mb} Star Force Origins - 070-Revulsion.mp3 65.91 MBs
2016 - Star Force Origin Series, Books 069-072 (Waldorph) 48k 13.35.57 {280mb} cover.jpg 45.44 KBs
2016 - Star Force Origin Series, Books 069-072 (Waldorph) 48k 13.35.57 {280mb} info.txt 1.1 KBs
Star Force Origins series (1-115) - eBOOKS 1-4.Star Force - Origin Series Box Set (1-4) - [N27] Star Force - Origin Series Box Set (1-4).epub 288.6 KBs
Star Force Origins series (1-115) - eBOOKS 1-4.Star Force - Origin Series Box Set (1-4) - [N27] cover.jpg 105.3 KBs
Star Force Origins series (1-115) - eBOOKS 100.Star Force - Intransigent (100) - [N27] cover.jpg 125.72 KBs
Star Force Origins series (1-115) - eBOOKS 100.Star Force - Intransigent (100) - [N27] Star Force - Intransigent (100) .epub 115.85 KBs
Star Force Origins series (1-115) - eBOOKS 13-16.Star Force - Origin Series Box Set (13-16) - [N27] Star Force - Origin Series Box Set (13-16).epub 358.41 KBs
Star Force Origins series (1-115) - eBOOKS 13-16.Star Force - Origin Series Box Set (13-16) - [N27] cover.jpg 104.56 KBs
Star Force Origins series (1-115) - eBOOKS 17-20.Star Force - Origin Series Box Set (17-20) - [N27] Star Force - Origin Series Box Set (17-20).epub 366.47 KBs
Star Force Origins series (1-115) - eBOOKS 17-20.Star Force - Origin Series Box Set (17-20) - [N27] cover.jpg 104.69 KBs
Star Force Origins series (1-115) - eBOOKS 21-24.Star Force - Origin Series Box Set (21-24) - [N27] Star Force - Origin Series Box Set (21-24).epub 377.36 KBs
Star Force Origins series (1-115) - eBOOKS 21-24.Star Force - Origin Series Box Set (21-24) - [N27] cover.jpg 104.59 KBs
Star Force Origins series (1-115) - eBOOKS 25-28.Star Force - Origin Series Box Set (25-28) - [N27] Star Force - Origin Series Box Set (25-28).epub 380.92 KBs
Star Force Origins series (1-115) - eBOOKS 25-28.Star Force - Origin Series Box Set (25-28) - [N27] cover.jpg 105 KBs
Star Force Origins series (1-115) - eBOOKS 29-32.Star Force - Origin Series Box Set (29-32) - [N27] Star Force - Origin Series Box Set (29-32).epub 384.41 KBs
Star Force Origins series (1-115) - eBOOKS 29-32.Star Force - Origin Series Box Set (29-32) - [N27] cover.jpg 104.73 KBs
Star Force Origins series (1-115) - eBOOKS 33-36.Star Force - Origin Series Box Set (33-36) - [N27] Star Force - Origin Series Box Set (33-36).epub 382.65 KBs
Star Force Origins series (1-115) - eBOOKS 33-36.Star Force - Origin Series Box Set (33-36) - [N27] cover.jpg 105.13 KBs
Star Force Origins series (1-115) - eBOOKS 37-40.Star Force - Origin Series Box Set (37-40) - [N27] Star Force - Origin Series Box Set (37-40).epub 368.88 KBs
Star Force Origins series (1-115) - eBOOKS 37-40.Star Force - Origin Series Box Set (37-40) - [N27] cover.jpg 104.61 KBs
Star Force Origins series (1-115) - eBOOKS 41-44.Star Force - Origin Series Box Set (41-44) - [N27] Star Force - Origin Series Box Set (41-44).epub 376.62 KBs
Star Force Origins series (1-115) - eBOOKS 41-44.Star Force - Origin Series Box Set (41-44) - [N27] cover.jpg 104.07 KBs
Star Force Origins series (1-115) - eBOOKS 45-48.Star Force - Origin Series Box Set (45-48) - [N27] Star Force - Origin Series Box Set (45-48).epub 388.69 KBs
Star Force Origins series (1-115) - eBOOKS 45-48.Star Force - Origin Series Box Set (45-48) - [N27] cover.jpg 104.57 KBs
Star Force Origins series (1-115) - eBOOKS 49-52.Star Force - Origin Series Box Set (49-52) - [N27] Star Force - Origin Series Box Set (49-52).epub 369.97 KBs
Star Force Origins series (1-115) - eBOOKS 49-52.Star Force - Origin Series Box Set (49-52) - [N27] cover.jpg 104.73 KBs
Star Force Origins series (1-115) - eBOOKS 5-8.Star Force - Origin Series Box Set (5-8) - [N27] Star Force - Origin Series Box Set (5-8).epub 318.88 KBs
Star Force Origins series (1-115) - eBOOKS 5-8.Star Force - Origin Series Box Set (5-8) - [N27] cover.jpg 103.8 KBs
Star Force Origins series (1-115) - eBOOKS 53-56.Star Force - Origin Series Box Set (53-56) - [N27] Star Force - Origin Series Box Set (53-56).epub 354.64 KBs
Star Force Origins series (1-115) - eBOOKS 53-56.Star Force - Origin Series Box Set (53-56) - [N27] cover.jpg 105.15 KBs
Star Force Origins series (1-115) - eBOOKS 57-60.Star Force - Origin Series Box Set (57-60) - [N27] Star Force - Origin Series Box Set (57-60).epub 366.04 KBs
Star Force Origins series (1-115) - eBOOKS 57-60.Star Force - Origin Series Box Set (57-60) - [N27] cover.jpg 104.9 KBs
Star Force Origins series (1-115) - eBOOKS 61-64.Star Force - Origin Series Box Set (61-64) - [N27] Star Force - Origin Series Box Set (61-64).epub 366.46 KBs
Star Force Origins series (1-115) - eBOOKS 61-64.Star Force - Origin Series Box Set (61-64) - [N27] cover.jpg 104.61 KBs
Star Force Origins series (1-115) - eBOOKS 65-68.Star Force - Origin Series Box Set (65-68) - [N27] Star Force - Origin Series Box Set (65-68).epub 368.68 KBs
Star Force Origins series (1-115) - eBOOKS 65-68.Star Force - Origin Series Box Set (65-68) - [N27] cover.jpg 105.05 KBs
Star Force Origins series (1-115) - eBOOKS 69.Star Force - Starchaser (SF69) - [N27] cover.jpg 123.69 KBs
Star Force Origins series (1-115) - eBOOKS 69.Star Force - Starchaser (SF69) - [N27] Star Force - Starchaser (SF69).epub 116.5 KBs
Star Force Origins series (1-115) - eBOOKS 70.Star Force - Revulsion (SF70) - [N27] cover.jpg 123.49 KBs
Star Force Origins series (1-115) - eBOOKS 70.Star Force - Revulsion (SF70) - [N27] Star Force - Revulsion (SF70).epub 116.37 KBs
Star Force Origins series (1-115) - eBOOKS 71.Star Force - Rescue (SF71) - [N27] Star Force - Rescue (SF71).epub 124.33 KBs
Star Force Origins series (1-115) - eBOOKS 71.Star Force - Rescue (SF71) - [N27] cover.jpg 123.6 KBs
Star Force Origins series (1-115) - eBOOKS 72.Star Force - Headstrong (SF72) - [N27] cover.jpg 123.7 KBs
Star Force Origins series (1-115) - eBOOKS 72.Star Force - Headstrong (SF72) - [N27] _Star Force - Headstrong (SF72) .epub 116.47 KBs
Star Force Origins series (1-115) - eBOOKS 73.Star Force - Cascade (SF73) - [N27] cover.jpg 123.81 KBs
Star Force Origins series (1-115) - eBOOKS 73.Star Force - Cascade (SF73) - [N27] Star Force - Cascade (SF73) .epub 118.43 KBs
Star Force Origins series (1-115) - eBOOKS 74.Star Force - Divergent (SF74) -[N27] cover.jpg 123.61 KBs
Star Force Origins series (1-115) - eBOOKS 74.Star Force - Divergent (SF74) -[N27] Star Force - Divergent (SF74) .epub 122.22 KBs
Star Force Origins series (1-115) - eBOOKS 75.Star Force - Resistance (SF75) - [N27] cover.jpg 123.57 KBs
Star Force Origins series (1-115) - eBOOKS 75.Star Force - Resistance (SF75) - [N27] Star Force - Resistance (SF75).epub 117.17 KBs
Star Force Origins series (1-115) - eBOOKS 76.Star Force - Divide (SF76) - [N27] cover.jpg 123.6 KBs
Star Force Origins series (1-115) - eBOOKS 76.Star Force - Divide (SF76) - [N27] Star Force - Divide (SF76) .epub 117.51 KBs
Star Force Origins series (1-115) - eBOOKS 77.Star Force - Perquisition (SF77) - [N27] cover.jpg 123.58 KBs
Star Force Origins series (1-115) - eBOOKS 77.Star Force - Perquisition (SF77) - [N27] Star Force - Perquisition (SF77).epub 118.04 KBs
Star Force Origins series (1-115) - eBOOKS 78.Star Force - Revision (SF78) - [N27] cover.jpg 123.83 KBs
Star Force Origins series (1-115) - eBOOKS 78.Star Force - Revision (SF78) - [N27] Star Force - Revision (SF78).epub 117.65 KBs
Star Force Origins series (1-115) - eBOOKS 79.Star Force - Revelation (SF79) - [N27] cover.jpg 123.41 KBs
Star Force Origins series (1-115) - eBOOKS 79.Star Force - Revelation (SF79) - [N27] Star Force - Revelation (SF79).epub 118.37 KBs
Star Force Origins series (1-115) - eBOOKS 80.Star Force - Ringworld (SF80) - [N27] cover.jpg 123.18 KBs
Star Force Origins series (1-115) - eBOOKS 80.Star Force - Ringworld (SF80) - [N27] Star Force - Ringworld (SF80).epub 115.81 KBs
Star Force Origins series (1-115) - eBOOKS 81.Star Force - Perseverance (SF81) - [N27] cover.jpg 123.55 KBs
Star Force Origins series (1-115) - eBOOKS 81.Star Force - Perseverance (SF81) - [N27] Star Force - Perseverance (SF81).epub 115.68 KBs
Star Force Origins series (1-115) - eBOOKS 82.Star Force - Hradeiti (SF82) - [N27] cover.jpg 124.15 KBs
Star Force Origins series (1-115) - eBOOKS 82.Star Force - Hradeiti (SF82) - [N27] Star Force - Hradeiti (SF82) .epub 120 KBs
Star Force Origins series (1-115) - eBOOKS 83.Star Force - Rammus (SF83) - [N27] cover.jpg 123.18 KBs
Star Force Origins series (1-115) - eBOOKS 83.Star Force - Rammus (SF83) - [N27] Star Force - Rammus (SF83).epub 116.6 KBs
Star Force Origins series (1-115) - eBOOKS 84.Star Force - Resurrection (SF84) - [N27] cover.jpg 123.4 KBs
Star Force Origins series (1-115) - eBOOKS 84.Star Force - Resurrection (SF84) - [N27] Star Force - Resurrection (SF84).epub 117.6 KBs
Star Force Origins series (1-115) - eBOOKS 85.Star Force - Intellect (SF85) - [N27] cover.jpg 123.16 KBs
Star Force Origins series (1-115) - eBOOKS 85.Star Force - Intellect (SF85) - [N27] Star Force - Intellect (SF85) .epub 118.48 KBs
Star Force Origins series (1-115) - eBOOKS 86.Star Force - Bahamut (SF86) - [N27] cover.jpg 123.36 KBs
Star Force Origins series (1-115) - eBOOKS 86.Star Force - Bahamut (SF86) - [N27] Star Force - Bahamut (SF86).epub 118.47 KBs
Star Force Origins series (1-115) - eBOOKS 87.Star Force - Zealot (SF87) - [N27] cover.jpg 123.59 KBs
Star Force Origins series (1-115) - eBOOKS 87.Star Force - Zealot (SF87) - [N27] Star Force - Zealot (SF87).epub 116.12 KBs
Star Force Origins series (1-115) - eBOOKS 88.Star Force - Quenar (SF88) - [N27] cover.jpg 123.29 KBs
Star Force Origins series (1-115) - eBOOKS 88.Star Force - Quenar (SF88) - [N27] _Star Force - Quenar (SF88).epub 118.33 KBs
Star Force Origins series (1-115) - eBOOKS 89.Star Force - Resolution (SF89) - [N27] cover.jpg 123.58 KBs
Star Force Origins series (1-115) - eBOOKS 89.Star Force - Resolution (SF89) - [N27] Star Force - Resolution (SF89).epub 118.54 KBs
Star Force Origins series (1-115) - eBOOKS 9-12.Star Force - Origin Series Box Set (9-12) - [N27] Star Force - Origin Series Box Set (9-12).epub 343.88 KBs
Star Force Origins series (1-115) - eBOOKS 9-12.Star Force - Origin Series Box Set (9-12) - [N27] cover.jpg 105 KBs
Star Force Origins series (1-115) - eBOOKS 90.Star Force - Collaboration (SF90) - [N27] cover.jpg 123.93 KBs
Star Force Origins series (1-115) - eBOOKS 90.Star Force - Collaboration (SF90) - [N27] _Star Force - Collaboration (SF90).epub 118.97 KBs
Star Force Origins series (1-115) - eBOOKS 91.Star Force - Reclamation (SF91) - [N27] cover.jpg 122.87 KBs
Star Force Origins series (1-115) - eBOOKS 91.Star Force - Reclamation (SF91) - [N27] Star Force - Reclamation (SF91).epub 117.69 KBs
Star Force Origins series (1-115) - eBOOKS 92.Star Force - Mantle (SF92) - [N27] cover.jpg 123.16 KBs
Star Force Origins series (1-115) - eBOOKS 92.Star Force - Mantle (SF92) - [N27] Star Force - Mantle (SF92).epub 117.12 KBs
Star Force Origins series (1-115) - eBOOKS 93.Star Force - Crusade (SF93) - [N27] cover.jpg 123.18 KBs
Star Force Origins series (1-115) - eBOOKS 93.Star Force - Crusade (SF93) - [N27] _Star Force - Crusade (SF93).epub 117.07 KBs
Star Force Origins series (1-115) - eBOOKS 94.Star Force - Paladin (SF94) - [N27] cover.jpg 121.9 KBs
Star Force Origins series (1-115) - eBOOKS 94.Star Force - Paladin (SF94) - [N27] _Star Force - Paladin (SF94).epub 116.34 KBs
Star Force Origins series (1-115) - eBOOKS 95.Star Force - Capitulation (SF95) - [N27] cover.jpg 121.08 KBs
Star Force Origins series (1-115) - eBOOKS 95.Star Force - Capitulation (SF95) - [N27] Star Force - Capitulation (SF95).epub 117.88 KBs
Star Force Origins series (1-115) - eBOOKS 96.Star Force - Leonidas (SF96) - [N27] cover.jpg 121 KBs
Star Force Origins series (1-115) - eBOOKS 96.Star Force - Leonidas (SF96) - [N27] _Star Force - Leonidas (SF96).epub 116.91 KBs
Star Force Origins series (1-115) - eBOOKS 97.Star Force - Rajamal (SF97) - [N27] cover.jpg 121.71 KBs
Star Force Origins series (1-115) - eBOOKS 97.Star Force - Rajamal (SF97) - [N27] _Star Force - Rajamal (SF97).epub 119.4 KBs
Star Force Origins series (1-115) - eBOOKS 98.Star Force - Shiva (SF98) - [N27] cover.jpg 121.31 KBs
Star Force Origins series (1-115) - eBOOKS 98.Star Force - Shiva (SF98) - [N27] Star Force - Shiva (SF98).epub 117.96 KBs
Star Force Origins series (1-115) - eBOOKS 99.Star Force - Kaalo (99) - [N27] cover.jpg 123.96 KBs
Star Force Origins series (1-115) - eBOOKS 99.Star Force - Kaalo (99) - [N27] Star Force - Kaalo (99).epub 117.03 KBs
Star Force Origins series (1-115) - eBOOKS Aer-ki Jyr - [Star Force 109] - The Admiral (retail) (azw3).epub 414.47 KBs
Star Force Origins series (1-115) - eBOOKS Aer-ki Jyr - [Star Force 113] - Uriti Strike (epub).epub 403.88 KBs
Star Force Origins series (1-115) - eBOOKS Aer-ki Jyr - [Star Force 101 - Wayward 01] - Lost Destiny (retail) (azw3).epub 357.64 KBs
Star Force Origins series (1-115) - eBOOKS Aer-ki Jyr - [Star Force 104 - Wayward 02] - Evasion (retail) (azw3).epub 345.44 KBs
Star Force Origins series (1-115) - eBOOKS Aer-ki Jyr - [Star Force 107 - Wayward 03] - Persistent Ravage (retail) (azw3).epub 339.38 KBs
Star Force Origins series (1-115) - eBOOKS Aer-ki Jyr - [Star Force 114] - Return to Earth (retail) (azw3).epub 272.49 KBs
Star Force Origins series (1-115) - eBOOKS Aer-ki Jyr - [Star Force 106 - Mak'to'ran 04] - Mak'to'ran 4 (retail) (azw3).epub 248.21 KBs
Star Force Origins series (1-115) - eBOOKS Aer-ki Jyr - [Star Force 105 - Mak'to'ran 03] - Mak'to'ran 3 (retail) (azw3).epub 247.59 KBs
Star Force Origins series (1-115) - eBOOKS Aer-ki Jyr - [Star Force 115] - Rift (retail) (azw3).epub 246.51 KBs
Star Force Origins series (1-115) - eBOOKS Aer-ki Jyr - [Star Force 112] - Ice Queen (retail) (azw3).epub 240.09 KBs
Star Force Origins series (1-115) - eBOOKS Aer-ki Jyr - [Star Force 103 - Mak'to'ran 02] - Mak'to'ran 2 (retail) (azw3).epub 239.53 KBs
Star Force Origins series (1-115) - eBOOKS Aer-ki Jyr - [Star Force 102 - Mak'to'ran 01] - Mak'to'ran 1 (retail) (azw3).epub 236.57 KBs
Star Force Origins series (1-115) - eBOOKS Aer-ki Jyr - [Star Force 111] - Endless Crusade (retail) (azw3).epub 219.57 KBs
Star Force Origins series (1-115) - eBOOKS Aer-ki Jyr - [Star Force 110] - Earth Evacuation (epub).epub 183.23 KBs
Star Force Origins series (1-115) - eBOOKS Aer-ki Jyr - [Star Force 108 - Mak'to'ran 05] - Mak'to'ran 5 (retail) (azw3).epub 133.99 KBs
1-72 - cover.1.jpg 208.95 KBs
Combined File Size:

4.34

GBs
Piece Size:

4

MBs
Comment:
Star Force Origin seres (1-72)
Updated by AudioBook Bay
Encoding:
UTF-8
Info Hash:
b4da642f04e312faa678bbba6ae3babc460ad40d
Torrent Download:
Torrent Free Downloads
Tips:
Sometimes the torrent health info isn't accurate, so you can download the file and check it out or try the following downloads.
Direct Download:
Download Files Now
Tips:
You could try out alternative bittorrent clients.
Secured Download:
Start Anonymous Download